Investing in
Mogrify
Mogrify® is a UK biotechnology company whose mission is to transform the development of ex vivo cell therapies, as well as pioneer a new class of in vivo reprogramming therapies.
The Company has developed a set of proprietary technologies that address the speed and efficiency of cell conversion and challenges associated with the maintenance of cell identity in the development of scalable cell therapies. These platforms, for the first time, make it possible to both systematically enhance the efficiency of stem cell-derived reprogramming and directly convert (transdifferentiate) mature cell types into other mature cell types (or states) without going through a pluripotent stem cell- or progenitor cell-state, whilst also identifying the optimal culture conditions required to maintain cells and support conversions in chemically defined media.
Mogrify is applying its award-winning platforms to engineer a renewable and scalable source of cell types that exhibit efficacy and safety profiles necessary to develop ex vivo cell therapies or in vivo reprogramming therapies for indications of high unmet clinical need in oncology, ophthalmology and other disease areas.
The platform is protected by the foundational patent application and a suite of additional patent applications covering improvements and extensions to the core platform and specific cell conversions. The Company is commercializing this via a business model of internal cell therapy development, co-development partnerships, and licensing of novel cell conversions to partners engaged in cell therapy development and regenerative medicine ($39 billion market USD by 2023).
Ahren Innovation Capital
Ahren LP is an investment fund that supports transformational companies at the cutting edge of deep science and deep tech. The technologies of its Founding Partners are today valued more than $100 billion combined. A group of highly diverse, creative and original thinkers leading their domains, Ahren believes in taking considered risk that will deliver superior rewards— capturing a generational opportunity to provide smart capital to deep technology pioneers. With a philosophy espousing the importance of relationships and trust, Ahren provides long-term capital and support to exceptional founders and teams, empowering them to achieve the unimaginable. Ahren Innovation Capital was founded by Alice Newcombe-Ellis, together with Science Partners Sir Shankar Balasubramanian, Professor John Daugman, Professor Zoubin Ghahramani, Professor Steve Jackson, Professor Andy Parker, Sir Venki Ramakrishnan, Lord Martin Rees and Sir Gregory Winter.
24HAYMarket
24Haymarket is a premium deal-by-deal investment platform focused on high-growth businesses, investing up to £5 million in any company. 24Haymarket's Investor Network includes several highly experienced private equity and venture capital investors, seasoned entrepreneurs and senior operators. It invests its own capital in direct alignment with entrepreneurs and typically seek Board representation to actively support their growth agenda. Since its inception in 2011, 24Haymarket has invested in more than 50 high-growth businesses.
Parkwalk Advisors
Parkwalk is the largest growth EIS fund manager, backing world-changing technologies emerging from the UK's leading universities and research institutions. With £250m of assets under management, it has invested in over 100 companies across its flagship Parkwalk Opportunities EIS Fund as well as the award-winning enterprise and innovation funds Parkwalk manages for the Universities of Cambridge, Oxford and Bristol.
Parkwalk invests in businesses creating solutions to real-world challenges, with IP-protected innovations, across a range of sectors including life sciences, AI, quantum computing, advanced materials, genomics, cleantech, future of mobility, medtech and big data.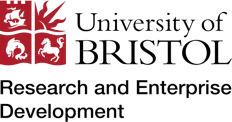 University of Bristol
The University of Bristol Enterprise Fund is an early-stage investment fund backing scientific and technological companies spun out of the University of Bristol or being supported by the University's SETsquared incubator.
DR. DARRIN M. DISLEY OBE
Darrin is a renowned scientist, entrepreneur, angel investor and enterprise champion who has started, grown, or invested in over 40 start-up life science, technology and social enterprises, raising $525 million USD in business financing and closing $700 million USD in commercial deals. He was CEO of Horizon Discovery Group plc for 11 years, during which he led the Company from start-up through a $113 million USD IPO, and rapid scale-up powered by multiple acquisitions of US peer companies to become a global market leader in gene editing and gene modulation technologies. He was awarded a lifetime Queen's Award for Enterprise Promotion in 2016 for his work in promoting enterprise across the UK and appointed OBE in 2018 for his services to business and enterprise in the healthcare sector.